moving upper PORTAL milling machine - 5-AXIS & 6-AXIS 
Moving Upper Portal Milling machine ( Moving Gantry Machine ) with fixed table deisgn provide exceptional Axes Dynamics and Precision in large parts machining. A wide range of 5-Axis and even 6-Axis, High Speed Machining Center are available for Large Mould Finishing, Aerospace Parts machining and Automotive Styling applications. 
5 and 6-axis gantry-type portal milling 
zimmermann - fzu / FZ series
Moving Upper Portal construction with Y-axis and Ram Z-Axis with fixed table design offers High Speed and Dynamic Precision for machining large size parts.  

The Zimmermann milling heads are the core and the heart of our milling solutions. We have the right milling head for every individual system concept, every material to be machined, every desired cutting volume and every surface quality. The dynamic 2- and 3-axis clevises are designed in monobloc designs made of cast iron. This design is characterized by high thermostability combined with optimum vibration and vibration damping. The patented Zimmermann milling heads range from powerful and flexible to dynamic and compact.
FZU - compact 5-axis GANTRY milling M/C 
compact 5-Axis Gantry Milling Machines for machining Aerospace materials like Aluminum & Fibre Composites as well as growig needs of  High Speed Mould Finsihing and Model Making. 
Modular design of Mono-Block U-Construction machine structure offers different length & height versions for High Speed Simultaneous 5-Axis Machining.  
Machining Sizes : from 3000 x 2000 x 1250 mm to 6000 x 3000 x 1500 mm 
Milling Spindles : upto 53 kW , 25000 rpm ( others on request ) 
Feedrates : upto 60,000 mm/min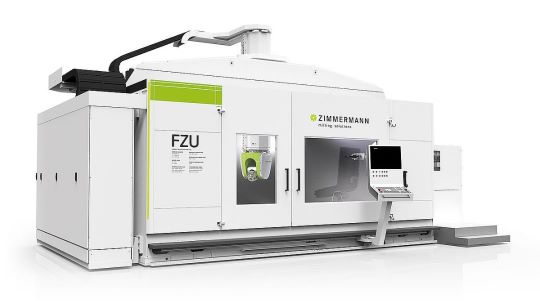 FZ SERIES - 5-axis / 6-axis portal MILLING 
This 6-Axis Gantry Milling machine can be offered in different combination of operating range, Axis stroke, Milling Heads & Spindle choices and CNC control. 
with M3ABC  3-Axis Milling Head and very Powerful Spindles,  Zimmermann's FZ series machines can fulfill any requirement Aerospace and Automotive industry with highest possible precision in large size parts.     

Machining Sizes : from 4100 x 1600 x 650 mm to 40000 x 6000 x 3000 mm 
Milling Spindles : upto 156 kW , 30000 rpm ( others on request ) 
Feedrates : upto 60,000 mm/min