Jig Grinding & Precision 5-Axis Grinding for a range of  application from Ultra Precision Moulds. Progressive & Fine Blanking Dies, Carbide Punches  to Precision Optical & Aerospace Parts.  
3-AXIS & 5-AXIS JIG GRINDING 
ROEDERS - RXP / RHP SERIES
Equipped with choice of High Speed Spindles  e.g. 42,000 / 50,000 / 60,000 rpm, capable of Milling and Jig Grinding. 
Capacity to precision machine Hardened Steel, Carbide, Ceramic and Glass with wide range of application from Dies, Punches, Precision Hydrualics, Aerospace Parts.  
All Machine axis are driven by Ultra Precise Linear Motor System eliminating the errors, slow speed and accuracy problems of Ball Screw systems. 
Machine axis interpolates at 0.05 Micron level. Ultrafast PC based RMS 6 Controller with 0.1 ms Block Processing Time and 10,000 Block Look Ahead feature enables very high feed rates and precision.    
RXP Series 
are the result of a long-lasting development process in Roeders HSC machine construction. With multiple patents and optimized in every detail, these low-wear and energy-saving linear motor machines achieve the highest possible precision, dynamics and surface qualities possible in numerous application areas.
From micro machining to workpieces with dimensions over 1 meter multiple machine models with   3-Axis or 5-Axis are available.  
Machining Sizes  :  from 410 x 294 x 210 mm  to  950 x 905x 500 mm

Milling Spindles  :  from 42,000 rpm ( others upo 90,000 rpm on request )

Feedrates  :  upto 60,000 mm/min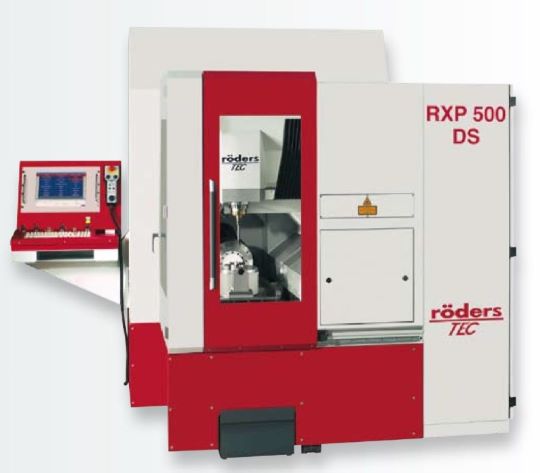 RHP SERIES
combine modern Linear Motor Axis drive technology with Hydrostatic guide ways. They achieve highest possible precision, geometric accuracy and absorption. In consequence the RHP machines are ideal for the production of optical surfaces, especially in case of equipping the machine with the ultra-precision air bearing spindle RSA-60.
Machining Sizes  : from 500 x 522  x 300 mm to  1400 x 1050 x 600 mm 
Milling Spindles  : 42,000 rpm ( others on request ) 
Feedrates  : upto 60,000 mm/min