DOUBLE COLUMN MACHINING CENTER
Double Column Machining Centers in multiple Axis sizes, Spindles, Attachments and Controllers; provide versatile configurations for Die Mould, Heavy and Large Part machining with minimum number of setups and high quality results. 
double column machiing center
wele - rb / sb / lb series
Built with precision scraping on mating structural parts, Wele Double Column Machining Center offer superior & stable Geometrical Accuracies and Powerful Vibration free cutting.
available with a choice of Wele' own Attachments options, 5-Face Machining can be realized economically.
with X-axis option upto 10m and Z axis upto 1400 mm , Wele offers a large range of Double Column Machining Centers.
SB / LB Series 
flagship products in Double Column Machining Center range. Available with choice of High Torque Geared Spindle or Built-in Spindle alongwith Wele' own developed Automatic Attachments provide superior cutting capabilities.  
Available with a choice of Fanuc 31i / Mitsubishi M830 / Heidenhain iTNC controllers. 
Machining Sizes  :  from 2000 x 1600 x 800 mm  to  10000 x 3350 x 1400 mm

Milling Spindles  :  6000 rpm Geared type / 12,000 rpm Built-in  type ( others on request)

Feedrates  :  upto 20,000 mm/min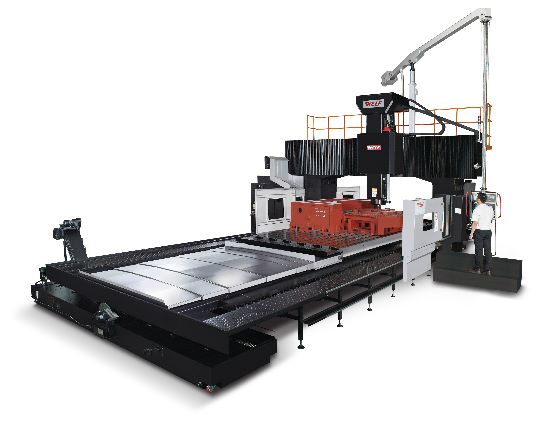 Rb SERIES
Compact Double Column Machining Center  with powerful cutting capabilities and precision. 
Available with choice of  Geared Headstock or Wide range of Built-in Spindle for Die Mould Application. 
Machining Sizes  : from 1000 x 810 x 500 mm to  1400 x 1050 x 600 mm 
Milling Spindles  : 6000 rpm Geared / 12,000, 20,000 rpm Built-in Spindle ( others on request ) 
Feedrates  : upto 24,000 mm/min